Malaria Cadre Training among the Anak Dalam Tribe Population in North Musi Rawas Regency
Elita Sari

Sriwijaya University

Rizma Adlia Syakurah

Universitas Sriwijaya
Keywords:
Malaria, Project Management, Anak Dalam Tribe
Abstract
Malaria remains a public health issue in Indonesia due to the favorable climate for mosquito breeding. Various policies have been implemented to combat the spread of malaria, including training malaria cadres. The Anak Dalam tribe is one of the tribes that has received malaria awareness training. This training, conducted through local malaria cadres, aims to enhance the tribe's knowledge about malaria. The project management approach method is employed for this activity, which took place on June 20, 2022, at the Muara Rupit Health Center from 08.00-12.30 am and was attended by health cadres. Given the nomadic nature of the Anak Dalam Tribe and the vulnerability of their home environment to malaria transmission, cadre training becomes crucial. The activity is carried out in five stages: initiation, planning, implementation, monitoring and supervision, and evaluation and reporting. The initiation process involves identifying and examining the problems at hand. Planning is conducted by forming work teams and coordinating implementation-related activities. The training sessions were delivered by several speakers from the South Sumatra Provincial Health Office. The activities are carefully monitored and evaluated to ensure smooth progress. Once all activities are completed, a comprehensive report is prepared. Despite encountering challenges during the activity, the health cadres actively participated in the training.
Downloads
Download data is not yet available.
References
Agustin, S., & Mursyidah, L. (2022). The Success of the Population Administration Service Program Through the e-PAK LADI Kiosk in Pasuruan Regency: Keberhasilan Program Pelayanan Administrasi Kependudukan Melalui Kios ePAK LADI di Kabupaten Pasuruan. Indonesian Journal of Public Policy Review, 20, 1–7.
Ahsana, D. (2019). Pengaturan Sarana dan Prasarana Sekolah Ramah di SD Negeri Tlacap Pandowoharjo Sleman. Hanata Widya, 8(2), 83–96.
Akbar, F., Darmiati, Arfa, F., & Putri, A. A. Z. (2021). Pelatihan dan Pendampingan Kader Posyandu Lansia di Kecamatan Wonomulyo. Jurnal Abdidas, 2(2), 392–397.
Erfiansyah, E., & Kurnia, I. (2018). Peranan Auditor Internal terhadap Kualitas Pelaporan Keuangan. Jurnal Ilmiah MEA (Manajemen, Ekonomi, & Akuntansi), 2(2), 144–160.
Fadilah, M., Jiawei, A. P., Cakra, M. P., & Syakurah, R. A. (2020). Analisis Pengetahuan Keluarga terhadap Penyakit Komorbid di Era Covid-19 Melalui Seminar Online. Jurnal Ilmu Kesehatan, 9(1), 86–93.
Huda, M., Marhamah, & Yuniza, F. (2022). Edukasi Masyarakat dan Pelatihan Kader dalam Pencegahan serta Pemeriksaan Malaria di Wilayah Kerja Puskesmas Maha Kabupaten Pesawaran. Jurnal Pengabdian Kepada Masyarakat Sakai Sambayan, 5(9), 2829–2842.
Ichsan, R. N. (2020). Pengaruh Pelatihan terhadap Prestasi Kerja Karyawan pada PDAM Tirtanadi Cabang Padang Bulan Medan. Jurnal Ilmiah Metadata, 2(1), 71–77.
Karundeng, J. O., & Mardona, Y. (2021). Konsep dan Intervensi Malaria Home Care Nursing (HCN) & Short Massage Service (SMS). Deepublish Publisher.
Kinansi, R. R., Mayasari, R., & Sitorus, H. (2021). Malaria pada Kelompok Wanita Usia Subur dan Anak di Indonesia: Analisis Data Riskesdas 2013. Jurnal Vektor Penyakit, 15(1), 17–32.
Lappra, K. G., & Untung Sudharmono. (2021). The Peran Kader Malaria di Wilayah Kerja Puskesmas Bagaiserwar Sarmi Timur. Promotif : Jurnal Kesehatan Masyarakat, 11(2), 113–121. https://doi.org/10.56338/pjkm.v11i2.2026
Lewinsca, M. Y., Raharjo, M., & Nurjazuli, N. (2021). Faktor Risiko yang Mempengaruhi Kejadian Malaria Di Indonesia : Review Literatur 2016-2020. Jurnal Kesehatan Lingkungan, 11(1), 16–28. https://doi.org/10.47718/jkl.v11i1.1339
Mardhiyah, A., Wijaya, A., & Roni, F. (2021). Literature review : hubungan motivasi dengan kinerja kader posyandu. Jurnal Keperawatan, 19(1), 37–36.
Matdoan, M. Y. (2020). Estimasi Parameter Regresi Quantil Dengan Regresi Robust Least Trimmed Square (LTS) (Studi Kasus : Faktor -Faktor yang Mempengaruhi Penyebaran Penyakit Malaria di Indonesia). Jurnal Riset Dan Aplikasi Matematika (JRAM), 4(1), 50–62. https://doi.org/10.26740/jram.v4n1.p51-62
Pebriyanti, E., & Syakurah, R. A. (2022). Analisis Manajemen Praktik Klinik Keperawatan Gawat Darurat Prodi D3 Keperawatan Universitas Bengkulu. Jurnal Kedokteran Ibnu Nafis, 11(1), 49–61.
Pitrianti, L., & Syakurah, R. A. (2022). Analisis Program Pelayanan Kesehatan pada Ibu Hamil dan Melahirkan Dinas Kesehatan Rejang Lebong. Jambi Medical Journal "Jurnal Kedokteran Dan Kesehatan," 10(1), 81–100.
Puasa, R., H, A. A., & Kader, A. (2018). Identifikasi Plasmodium Malaria di Desa Beringin Jaya Kecamatan Oba Tengah Kota Tidore Kepulauan. Jurnal Riset Kesehatan, 7(1), 21–24.
Selvia, D. (2019). Outdoors Activity on the Night and Use of Insecticidal Nets with Malaria Disease in Lempasing Village. Jurnal Ilmiah Kesehatan (JIKA), 1(2), 89–95. https://doi.org/10.36590/jika.v1i2.29
Tristo, R. (2018). Peningkatan Kesadaran Pentingnya Pendidikan bagi Suku Anak Dalam Provinsi Sumatera Selatan melalui Penyuluhan Sosial. Quantum, XIV, 51–66.
Wikansari, N., Santoso, D. B., Pramono, D., & Widarsih, D. W. (2019). Evaluasi Program Early Warning Alert and Respon System (EWARS) dalam Pelaksanaan Surveilans KLB Kota Salatiga Provinsi Jawa Tengah. Jurnal Manajemen Informasi Dan Administrasi Kesehatan (JMIAK), 2(1), 9–17.
Yuliyanti, W. D. (2020). Upaya World Health Organization (WHO) melalui Global Malaria Programme (GMP) dalam Mengatasi Penyakit Endemik Malaria di Indonesia Tahun 2016-2019. Universitas Islam Negeri Sunan Ampel Surabaya.
Zulkarnaeun, W., Fitriani, I. D., Sadarman, B., & Yuningsih, N. (2020). Evaluasi Kinerja Distribusi Logistik KPU Jawa Barat Sebagai Parameter Sukses Pilkada Serentak 2018. Jurnal Lmiah MEA (Manajemen, Ekonomi, Dan Akuntansi), 4(2), 244–264.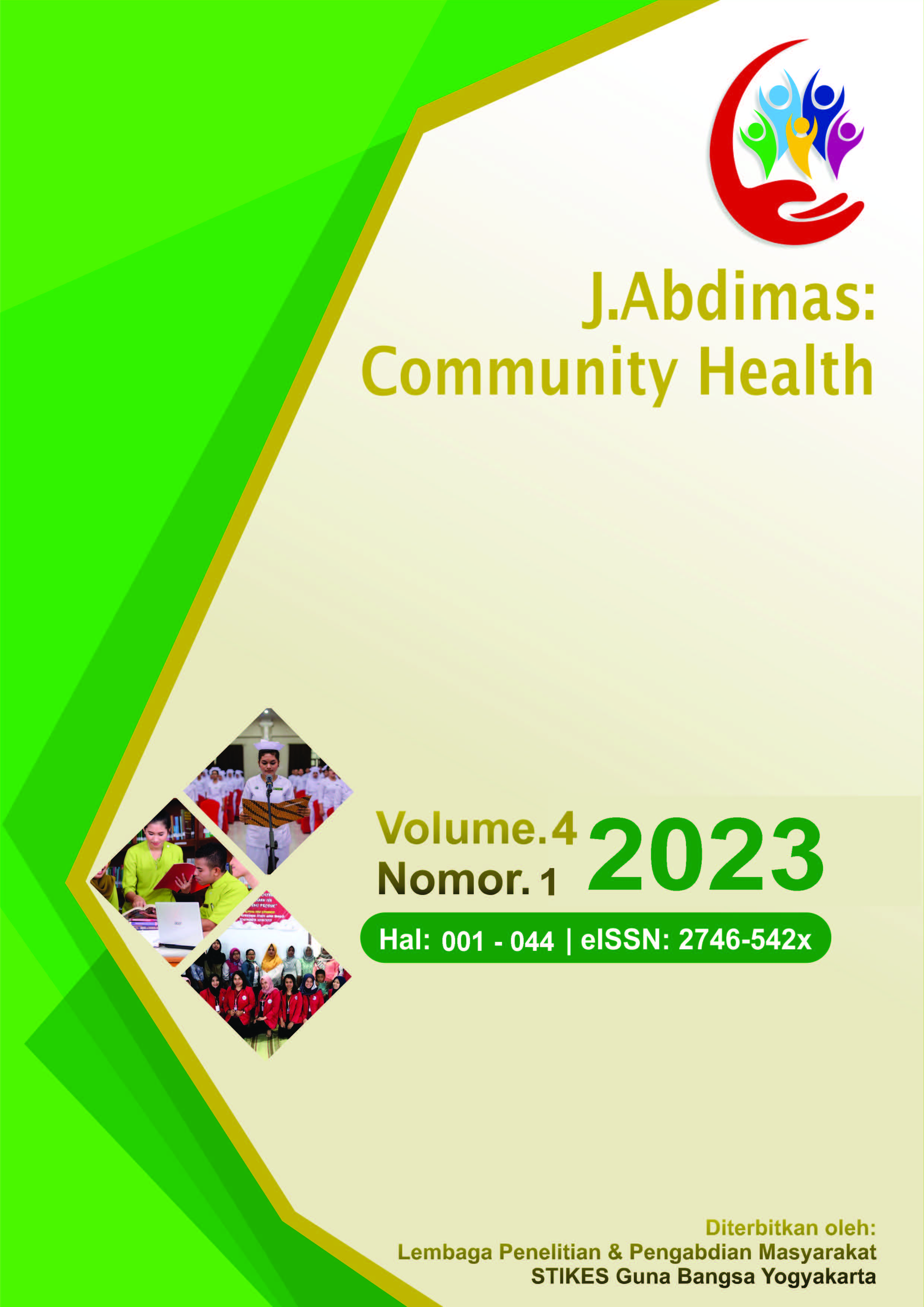 How to Cite
Sari, E., & Syakurah, R. A. (2023). Malaria Cadre Training among the Anak Dalam Tribe Population in North Musi Rawas Regency. J.Abdimas: Community Health, 4(1), 01-08. https://doi.org/10.30590/jach.v4n1.582
Copyright (c) 2023 Elita Sari, Rizma Adlia Syakurah
This work is licensed under a Creative Commons Attribution 4.0 International License.
Authors who publish with this journal agree to the following terms:
Authors retain copyright and grant the journal right of first publication with the work simultaneously licensed under a Creative Commons Attribution License (CC-BY) that allows others to share the work with an acknowledgment of the work's authorship and initial publication in this journal.
Authors are able to enter into separate, additional contractual arrangements for the non-exclusive distribution of the journal's published version of the work (e.g., post it to an institutional repository or publish it in a book), with an acknowledgment of its initial publication in this journal.
Authors are permitted and encouraged to post their work online (e.g., in institutional repositories or on their website) prior to and during the submission process, as it can lead to productive exchanges, as well as earlier and greater citation of published work (See The Effect of Open Access).