ANTIBACTERIAL ACTIVITY TEST OF LEAVES KECOMBRANG (NICOLAIA SPECIOSA) ETHANOLIC EXTRACTS AGAINST STAPHYLOCOCCUS AUREUS
Rinda Binugraheni

D3 Analis Kesehatan Universitas Setia Budi

Ndaru Trisni Larasati

D3 Analis Kesehatan Universitas Setia Budi
Keywords:
Kecombrang, Antibacteria, Staphylococcus Aureus
Abstract
Infectious diseases that often occur in humans are skin infections. One of the bacteria that cause infection in humans is Staphylococcus aureus. One of the plants used as an ingredient in traditional medicine and used as an anti-bacterial is a kecombrang plant. This research aims to test the antibacterial activity of leaf extract of kecombrang against Staphylococcus aureus. Kecombrang leaf obtained from Pandeglang Banten. Kecombrang leaves extracted with a maceration method using 96% ethanol solvent. Extracts of leaves are made in a various concentrations (100%, 75%, 50%, and 25%). The antibacterial activity test was performed by using the diffusion method to find out the large zone of diameter are formed to inhibiting Staphylococcus aureus bacteria.The results of the antibacterial activity of the leaves extract of kecombrang to Staphylococcus aureus at 25%, 50%, 75% and 100% concentrations respectively were 12.67 mm, 14.33 mm, 15.33 mm, and 17.00 mm. The data result showed, that leaf extract of kecombrang with 100% concentration had the largest inhibiting zone diameter of 17.00 mm, among other concentrations. This suggests that kecombrang leaf extract have antibacterial activity against Staphylococcus aureus.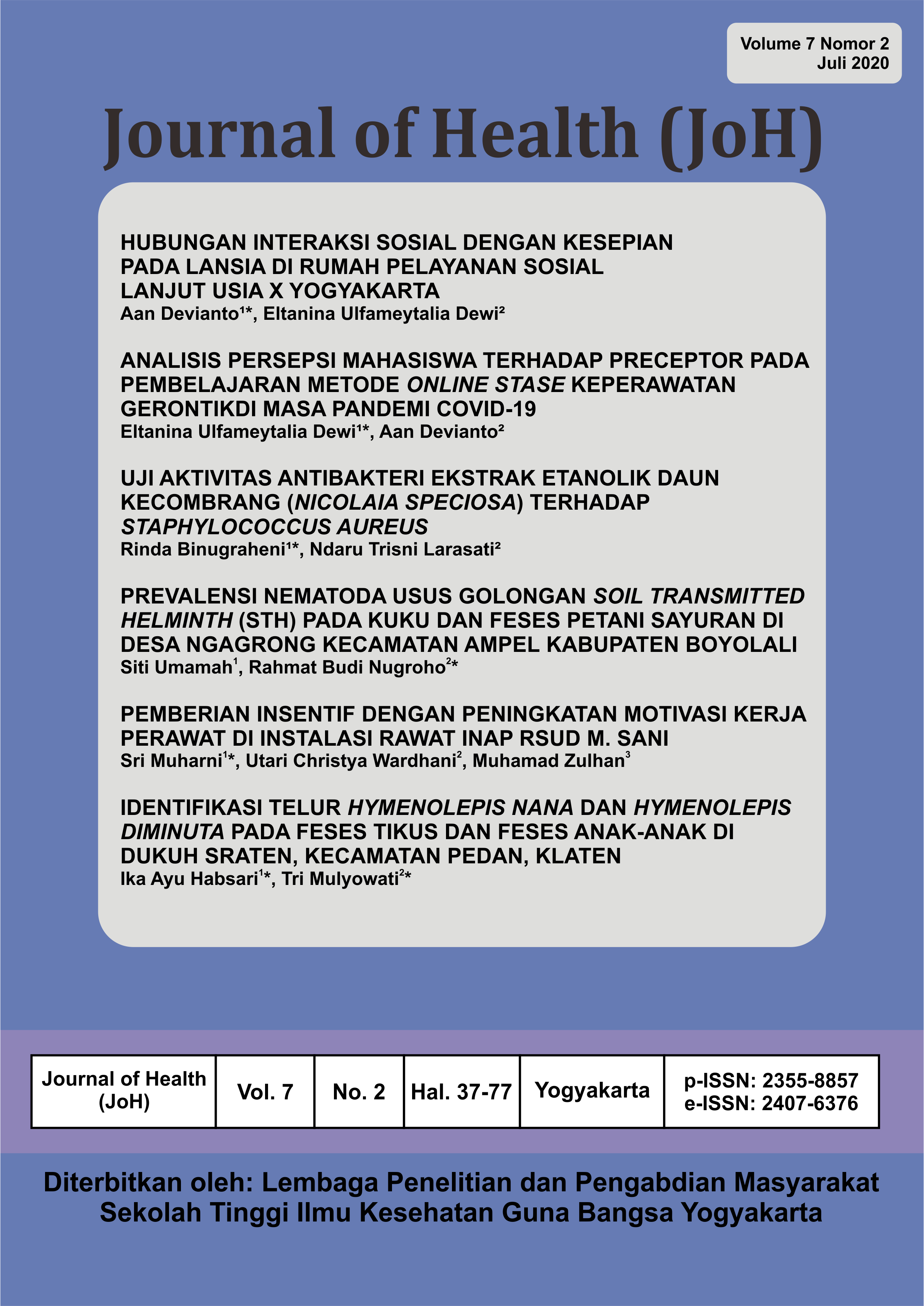 This work is licensed under a Creative Commons Attribution 4.0 International License.