PREVALENCE OF INTESTINAL NEMATODES SOIL TRANSMITTED HELMINTH (STH) ON NAILS AND FECES OF VEGETABLE FARMERS IN NGAGRONG VILLAGE AMPEL SUBDISTRICTBOYOLALI REGENCY
Siti Umamah

Universitas Setia Budi Surakarta

Rahmat Budi Nugroho

Universitas Setia Budi Surakarta
Keywords:
Soil Transmitted Helminth, Feces, Nails, Vegetable Farmers
Abstract
The development of endemic diseases such as worm infections that are transmitted through soil is strongly influenced by climatic conditions in tropical Indonesia. The worms included in the Soil Transmitted Helminth are Ascaris lumbricoides, Trichuris trichiura and Hookworm (Necator americanus and Ancylostoma duodenale). Ngagrong is a village in the highlands in Boyolali Regency. The majority of the population works as farmers, especially vegetable farmers. It is suspected that the habit of farmers while working who sometimes do not use personal protective equipment such as gloves and footwear in the form of sandals or shoes that directly contact with the soil and eat food without first washing their hands can give them a risk of worm infection. Intestinal Nematodes of Soil Transmitted Helminth in vegetable farmers In Ngagrong Village, Ampel Subdistrict, Boyolali Regency, Central Java.This research was conducted at the Parasitology Laboratory of the Faculty of Health Sciences, Setia Budi University, Surakarta in January 2019. The samples taken were stools and nails of 30 vegetable farmers in Ngagrong Village, Ampel Subdistrict, Boyolali Regency. The technique used is directly with lugol dyes in faecal samples and sedimentation (deposition) with 0.25% NaOH in nail samples. The results of the examination obtained from 30 faecal samples of vegetable farmers were found to have a positive percentage of results found in 3.33% of the Soil Transmitted Helminth Intestinal Nematodes, namely Hookworm worm eggs. In the nail sample, negative results were not infected with the parasitic Transmitted Helminth Soil Group with a percentage of 100% of the 30 nail samples examined.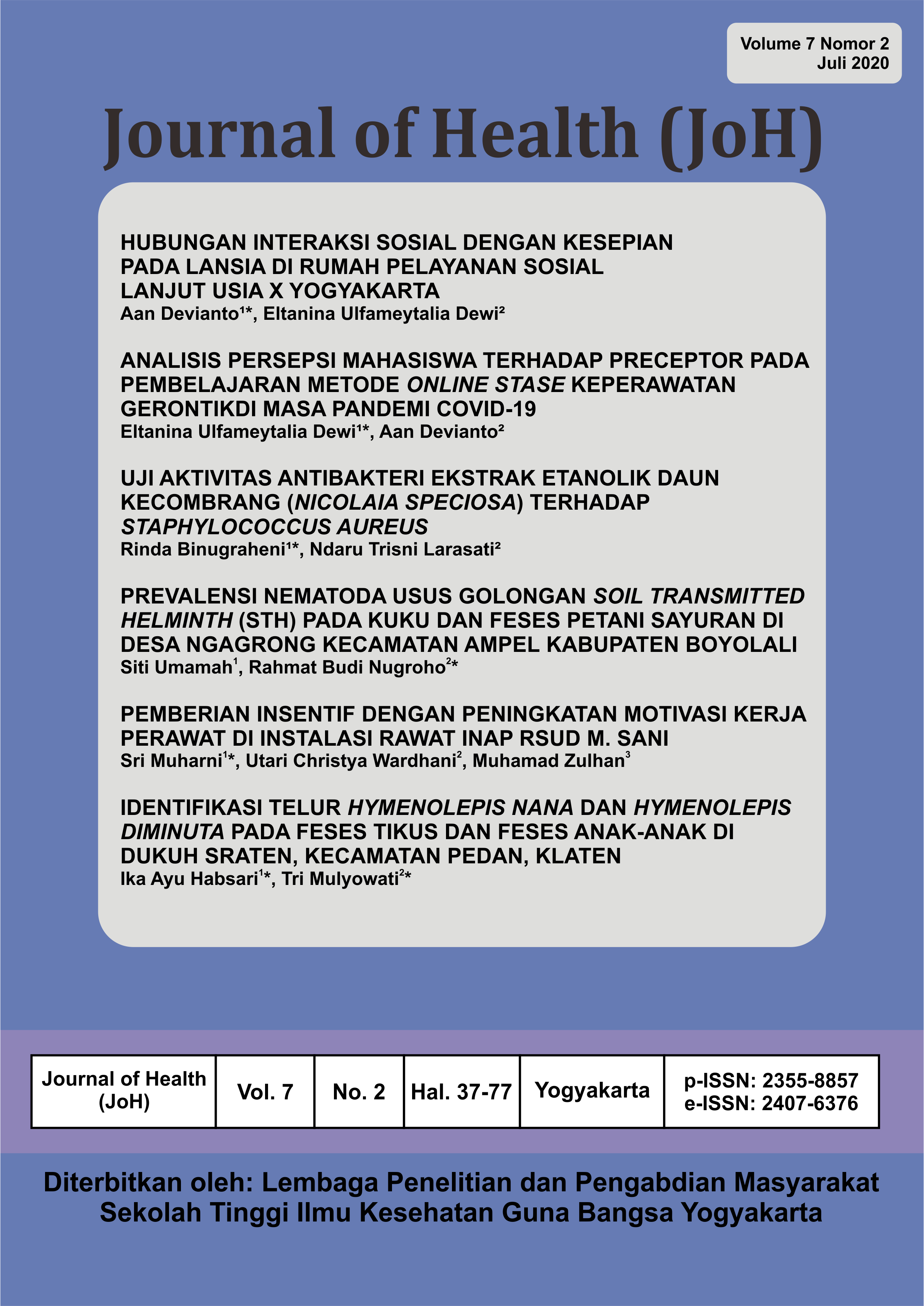 This work is licensed under a Creative Commons Attribution 4.0 International License.