The Association Between Health Belief Model Theory and Preeclampsia on Pregnant Women in Kediri Regency East Java
Katmini Katmini

Prodi Keperawatan STIKes Bhakti Mulia Kediri

Febrina Dwi Nurcahyanti

Prodi Kebidanan STIKes Bhakti Mulia Kediri

Astri Yunita

Prodi Kebidanan STIKes Bhakti Mulia Kediri
Abstract
Latar Belakang: Angka Kematian Ibu (AKI) yang tinggi tahun 2015 merupakan masalah yang besar di Indonesia, yaitu 305 per 100.000 kelahiran hidup. Angka ini sedikit menurun jika dibandingkan dengan SDKI (1991) yaitu sebesar 390 per 100.000 KH. Tujuan ke-3 SDG's adalah kesehatan yang baik (menurunkan AKI) menjadi 102 per 100.000 KH. Kematian ibu tahun 2010-2012 disebabkan karena peningkatan pada kejadian preeklamsia, eklamsia dan faktor lain-lain, seperti masalah sosial, budaya, pendidikan yang kurang, hingga persoalan ekonomi. Tujuan penelitian untuk mengetahui hubungan Theory Health Belief Model  dengan kejadian preeklamsia pada ibu hamil di Kabupaten Kediri Jawa Timur.
Subjek dan Metode: Penelitian dilaksanakan di Puskesmas binaan Kabupaten Kediri. Metode penelitian kuantitatif jenis explanatory study, desain penelitian case control study, pada ibu dengan preeklamsia untuk kasus dan tidak preeklamsia untuk kontrol. Jumlah sampel adalah 100 ibu hamil dari Puskesmas Binaan Kabupaten Kediri. Variabel independen yang diteliti adalah umur ibu hamil, pendidikan, pekerjaan, Body Mass Index dan berat badan. Variabel dependen yang diteliti adalah preeklamsia. Analisa data yang digunakan adalah Chi Square menggunakan SPSS 22.
Hasil: Analisis bivariat menggunakan uji chi square didapatkan ada hubungan antara persepsi kerentanan(OR=0.32; 95% CI=0.13 to 0.74; p=0.007), persepsi keseriusan (OR=0.33; 95% CI=0.13 to 0.80; p=0.012),persepsi manfaat (OR=0.38; 95% CI=0.17 to 0.87; p=0.022) dan persepsi hambatan (OR=5.18; 95% CI=2.13 to 12.58; p=<0.001) dengan preeklamsia.
Kesimpulan: Ada hubungan antara umur ibu hamil, paritas, tingkat pendidikan dan pekerjaan dengan preeklamsia. Variabel lain yang tidak berhubungan dengan kejadian preeklamsia yaitu Body Mass Index dan berat badan.
Downloads
Download data is not yet available.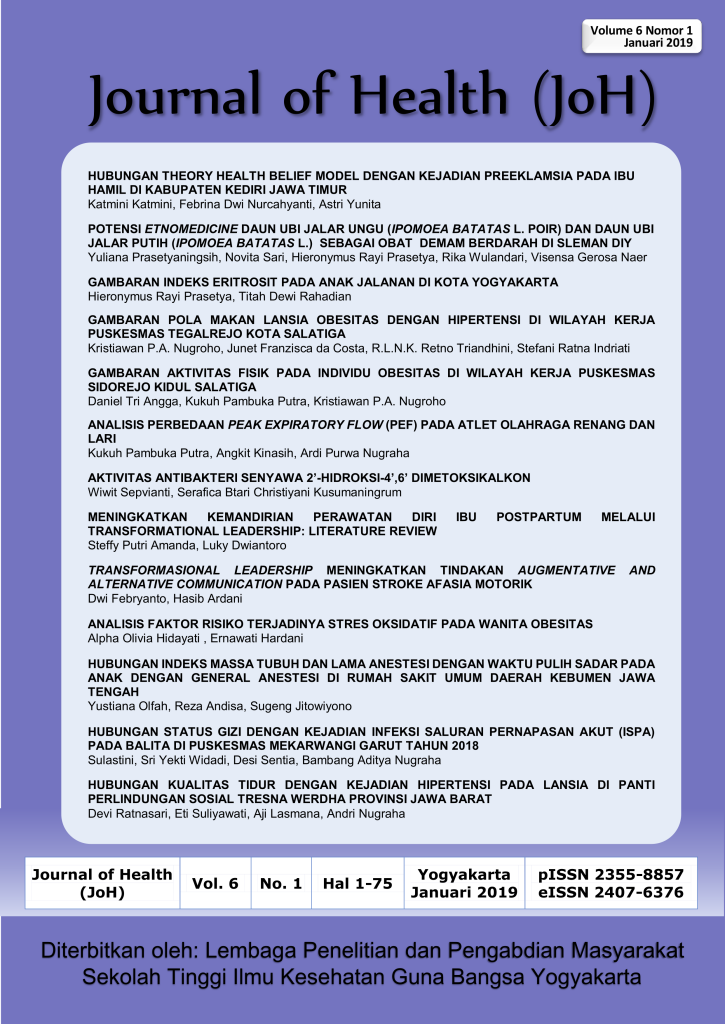 How to Cite
Katmini, K., Nurcahyanti, F. D., & Yunita, A. (2019). The Association Between Health Belief Model Theory and Preeclampsia on Pregnant Women in Kediri Regency East Java. Journal of Health (JoH), 6(1), 1-5. https://doi.org/10.30590/vol6-no1-p1-5
Authors who publish with this journal agree to the following terms:
Authors retain copyright and grant the journal right of first publication with the work simultaneously licensed under a Creative Commons Attribution License that allows others to share the work with an acknowledgment of the work's authorship and initial publication in this journal.
Authors are able to enter into separate, additional contractual arrangements for the non-exclusive distribution of the journal's published version of the work (e.g., post it to an institutional repository or publish it in a book), with an acknowledgment of its initial publication in this journal.
Authors are permitted and encouraged to post their work online (e.g., in institutional repositories or on their website) prior to and during the submission process, as it can lead to productive exchanges, as well as earlier and greater citation of published work (See The Effect of Open Access).