PHYSICAL TEST AND ANTIBACTERIAL ACTIVITIES OF THE ETHANOL CREAM EXTRACT OF AIRLEAF (ZIZIPHUS SPINA-CHRISTI L.) ON PROPIONIBACTERIUM ACNES ATCC 6919
Monik Krisnawati

Poltekkes TNI AU Adisutjipto
Keywords:
Acne, Antibacterial Activity, Bidara
Abstract
Acne is a chronic inflammatory disease of the polysebaceous region characterized by the appearance of comedones, papules, pustules, nodules, and cysts. Bidara contains phenolics and flavonoids which are useful as anti-inflammatory, antioxidant, antimicrobial, and prevent tumors. Other chemical constituents of Bidara that play a role in treatment are alkaloids, phenols, flavonoids, and terpenoids. This study aims to determine the effect of the concentration of the ethanolic extract of Bidara leaves (Ziziphus-Spina Christi L.) on the physical properties of the cream and the antibacterial activity of the Bidara leaf cream against the bacteria Propionibacterium acnes ATCC 6919 made in type O/W (Oil in Water) using a vanishing cream with 3 kinds of concentration, namely 10%, 12.5%, and 15%. Physical properties (organoleptic, spreadability, adhesion, and protection) and antibacterial activity against Propionibacterium acnes were measured using the well diffusion method. The results of the test of physical properties and antibacterial activity were analyzed using statistical tests with a 95% confidence level. The results of the physical properties test showed that the cream of ethanol extract of Bidara leaves had the aroma of Bidara leaves, greenish color, semisolid form, and homogeneous texture. The cream of ethanol extract of Bidara leaves with a concentration of 15% showed the greatest dispersion and adhesion at 6.9 cm and 6 seconds. The protection ability of bidara ethanol extract cream at the overall concentration was shown up to 5 minutes.
Downloads
Download data is not yet available.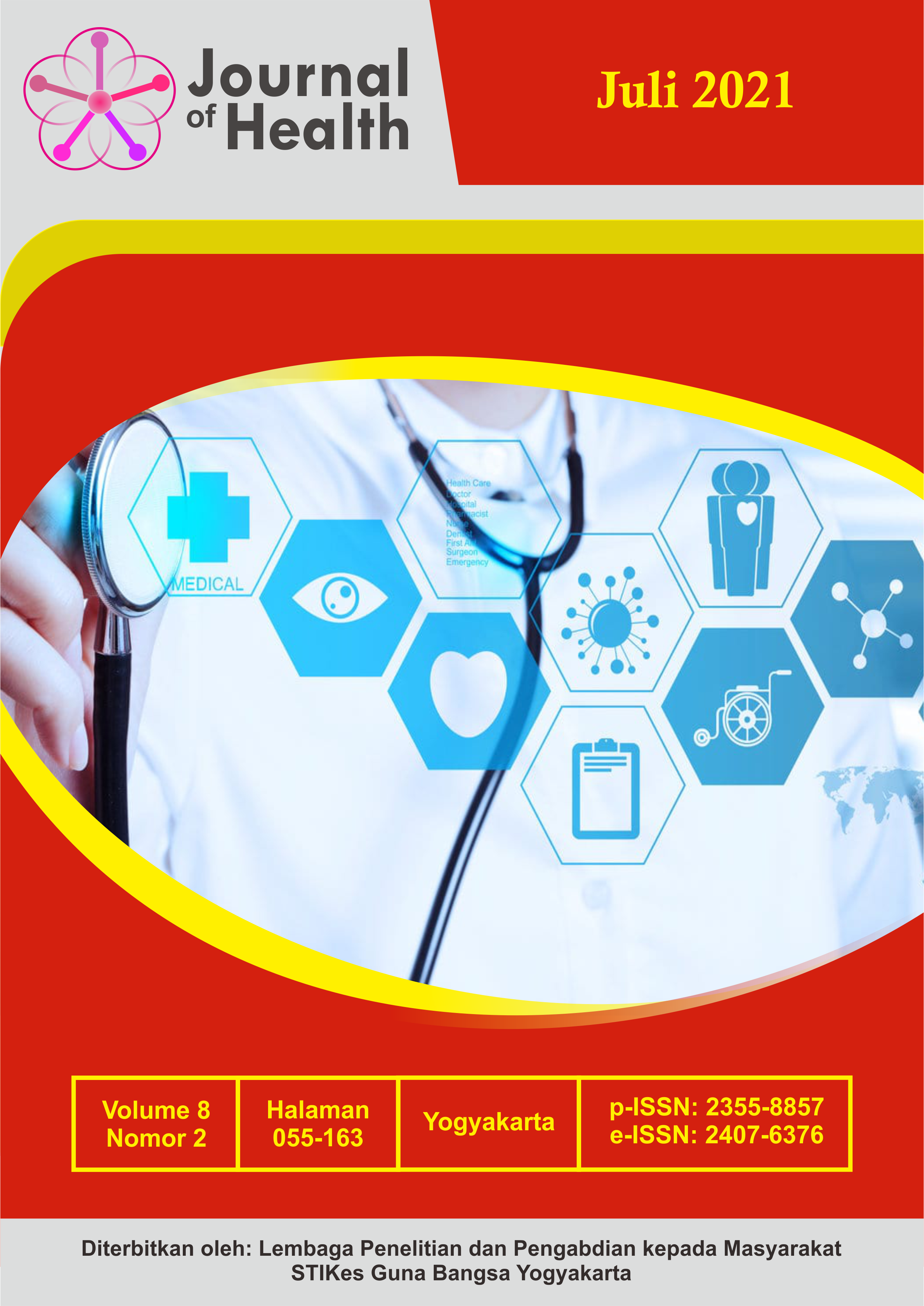 How to Cite
Monik Krisnawati. (2021). PHYSICAL TEST AND ANTIBACTERIAL ACTIVITIES OF THE ETHANOL CREAM EXTRACT OF AIRLEAF (ZIZIPHUS SPINA-CHRISTI L.) ON PROPIONIBACTERIUM ACNES ATCC 6919. Journal of Health (JoH), 8(2), 55-66. https://doi.org/10.30590/joh.v8n2.p56-66.2021
Copyright (c) 2021 Monik Krisnawati
This work is licensed under a Creative Commons Attribution 4.0 International License.
Authors who publish with this journal agree to the following terms:
Authors retain copyright and grant the journal right of first publication with the work simultaneously licensed under a Creative Commons Attribution License (CC-BY), that allows others to share the work with an acknowledgment of the work's authorship and initial publication in this journal.
Authors are able to enter into separate, additional contractual arrangements for the non-exclusive distribution of the journal's published version of the work (e.g., post it to an institutional repository or publish it in a book), with an acknowledgment of its initial publication in this journal.
Authors are permitted and encouraged to post their work online (e.g., in institutional repositories or on their website) prior to and during the submission process, as it can lead to productive exchanges, as well as earlier and greater citation of published work (See The Effect of Open Access).