Wet Cupping Therapy for Reducing Uric Acid Levels
Arif Tirtana

STIKes Madani Yogyakarta

Muhammad Habib

STIKes Madani Yogyakarta
Keywords:
: Wet Cupping; Hyperuricemia; gout
Abstract
Uncontrolled uric acid in the blood can lead to hyperuricemia. Symptoms that arise are pain, swollen, inflamed, hot and stiff joints so that the sufferer cannot carry out activities as usual. The morbidity rate of patients at 34 years is 32% and aged over 34 years is 68%. To suppress the symptoms of hyperuricemia, treatment can be done by removing static blood containing toxins from the human body. Research Objectives To determine the effect of wet cupping (al-hijamah) on reducing uric acid levels in the blood. The method in this research is using the PICOS framework, Population/ Problem (P), Intervention (I), Comparison (C), Results (O), Study Design (S). The initial stage of selecting articles with the keywords "uric acid" and "cupping" was found in 1627 journals. A total of 312 data did not match the title, and as many as 32 data did not match the problem formulation and objectives. So that obtained 8 journals in accordance with the inclusion criteria of the study. Search literature through Google Scholar database, Springer Link, Science direct. The results of a journal study, wet cupping can reduce uric acid levels in the blood with a significant value (P<0.05).
Downloads
Download data is not yet available.
References
Ahmad, N. 2011. Cara Mencegah dan Mengobati Asam Urat dan Hipertensi. Jakarta: Rineka Cipta.
Akbar, N. dan E. Mahati. 2013. Pengaruh Terapi Bekam Basah Terhadap Kolesteroldan Tekanan Darah Pada Pasien Hipertensi Di Semarang. Artikel Kedokteran Diponegoro 2(1):
Asosiasi Bekam Indonesia (ABI). 2012. Panduan Pengajaran Bekam. Jakarta: Tim Diklat ABI Pusat. Apriana, I., P. S, Dewi., dan D. D. M. Ningsih. 2018. Hubungan Menopause Dengan Kadar Asam Urat Dalam Darah. JIC 5(2): 105-110
Apriyanto, F. 2019. Kadar Asam Urat Dengan Terapi Bekam Basah Di Titik Zohrul Qodam Pada Penderita Hiperurisemia Dirumah Pengobatan Iklas Karanganyar. Skripsi. Program Studi Sarjana Keperawatan. STIKes Kusuma Husada. Surakarta.
Bahri, M. S. 2019. Pengaruh Tehnik Bekam Basah Terhadap Penurunan Kadar Asam Urat pada Wanita. Skripsi. STIKes ICME. Jombang.
Damayanti, S., F. Muharani, dan B. Gunawan, 2012. Profil Penggunaan Terapi Bekam di Kabupaten/Kota Bandung ditinjau dari Aspek Demografi, Riwayat Penyakit dan Profil Hematologi. Bandung. Acta Pharmaceutica Indonesia 37(3): 102-109
Dianati, N. A. 2015. Gout and hyperuricemia. J Majority 4(3): 82-89
Dinas Kesehatan Pekanbaru (Dinkes Pekanbaru). 2017. Profil kesehatan Kota Pekanbaru 2017. Dinas Kesehatan Kota pekanbaru. Pekanbaru.
Dinas Kesehatan Riau (Dinkes Riau). 2015. Profil kesehatan provinsi riau 2015. Pekanbaru: Dinas Kesehatan. Riau.
Hak, A.E dan H.K. Choi, 2008. Menopause, postmenopausal hormone use and serum uric acid levels in US women – The Third National Health and Nutrition Examination Survey. Arthritis Research & Therapy 10(5):120.
Husain, N.R.N., S.M., Hairon., R.M. Zain., M. Bakar., T.G. Bee, dan M.S .Ismail., 2020. The Effects of Wet Cupping Therapy on Fasting Blood Sugar, Renal Function Parameters, and Endothelial Function: A Single-Arm Intervention Study. OMJ 35(2): e108–e108.
Juliana, S. dan L.O.M. seti. 2017, Faktor-faktor yang Berhubungan dengan Kejadian Asam Urat pada 20-40 Tahun di RSUD Bahteramas Provinsi Sulawesi Tenggara 2017. Skripsi. Fakultas Kesehatan Masyarakat. Universitas Halu Oleo. Sulawesi Tenggara.
Ndede, V. Z. L. P., Wenda, O., dan Hendro B. 2019. Pengaruh pemberian rebusan daun salam terhadap penurunan kadar asam urat pada penderita gout artritis di wilayah kerja puskesmas ranotana weru. Artikel Keperawatan 7 (1): 1-8.
Ningsih, N.F. dan N. Afriana 2017. Pengaruh Terapi Bekam terhadap kadar asam urat pada penderita Hiperuremia di Rumah Sehat Khaira Bangkinang. Artikel Ners 1(2): 45-51
Notoatmodjo, S. 2014. Ilmu Perilaku Kesehatan. Jakarta: Rineka Cipta.
Permatasari, N., Bayhakky, dan Sofiana, N,.2019. Perbedaan Kadar Asam Urat Sebelum Dan Sesudah Terapi Bekam. JOM FKp 6 (1): 119-125
Putri, A.A. 2019. Pengaruh Terapi Bekam Terhadap Penurunan Kadar Asam Urat Pada Lansia Di Wilayah Kerja Puskesmas Sitiung 1. Artikel Menara Ilmu 13(7): 20-23
Rahmadi, A. 2013. Menjadi Dokter di Rumah Sndiri: Secara Islami dan Alami. KS Production. Jakarta.
Rahmawati. 2019. Gambaran Kadar Asam Urat Sesudah Bekam Basah Pada Pra Lansia (Studi Di Rt 008 Rw 002 Dusun Blimbing Desa Dawu Kecamatan Paron Kabupaten Ngawi. Skripsi. STIKes ICME. Jombang.
Riset Kesehatan Dasar (Riskesdas). 2013. Pedoman pewawancara petugas pengumpulan data. Badan litbangkes RI. Jakarta.
Risniati, Y., Annisa, R.A., Tri, W.L., Nurhayati dan Hadi, S., 2019. Pelayanan Kesehatan Tradisional Bekam: Kajian Mekanisme, Keamanan dan Manfaat. JPPK 3(3): 212-225
Rochman, N., Mahfud dan Fatimah. 2020. Efektifitas Terapi Bekam Terhadap Penurunan Kadar Asam Urat Pada Dewasa Usia 26-45 Tahun Di Puskesmas Sedayu. Journal of Advanced Nursing and Health Sciences 1 (1): 14-19.
Rofiah, H., Yunani, dan Witri, H. 2016. Pengaruh Terapi Bekam Terhadap Kadar Asam Urat Pada Penderita Asam Urat di Puskesmas Keling I Kecamatan Keling Kabupaten Jepara. Semarang: STIKes Karya Husada Semarang.
Rosyanti, L., Indriono, H., Askrening, Maman, I. 2020. Complementary Alternative Medicine: Kombinasi Bekam Basah dan Ayat Alquran pada Perubahan Tekanan Darah, Glukosa, Asam Urat, dan Kolesterol. Health Inf J Penelit 12(2): 173-192
Salih, W. B. M. 2017. The effect of blood cupping on plasma creatinine and uric acid levels. http://repository.sustech.edu/handle/123456789/18717
Sari, F.R., Muhammad, A.S.G.P., Fika, E., Imam, S., 2018. Bekam sebagai kedokteran profetik dalam tinjauan hadis, sejarah dan kedokteran berbasis bukti. Depok: PT. RajaGrafindo Persada
Soeroso, J. dan Algristian, H. 2011. Asam Urat, Jakarta: Penebar Plus.
Sutanto, T. 2013. Asam Urat. Buku Pintar: Yogyakarta
Sutriyono, Muhammad, R.R., Meksianis, Z.N., 2019. The Effects of Wet Cupping Therapy in Blood Pressure, Glucose, Uric Acid and Total Cholesterol Levels. Biology, Medicine, & Natural Product Chemistry 8(2): 33-36
Tamsuri 2007. Konsep Penatalaksanaan Nyeri. Jakarta: EGC.
Thayibah, R., Yunus, A., dan Andrei, R. 2018. Hiperurisemia Pada Remaja di Wilayah Kerja Puskesmas Arjasa Kabupaten Situbondo. JPK 6 (1): 38-45.
Tortora, G. J. Dan Bryan D. 2014. Principle of Anatomy and Physiology, 14 edition. Hoboken: Wiley
Umar, Wadda. 2010. Bebas Stroke Dengan Bekam. Surakarta: Thibbia
Widada, W. 2016. Perkembangan terapi bekam dalam dunia medis dan riset: pengaruh bekam pada sindrom metabolik. Yogyakarta.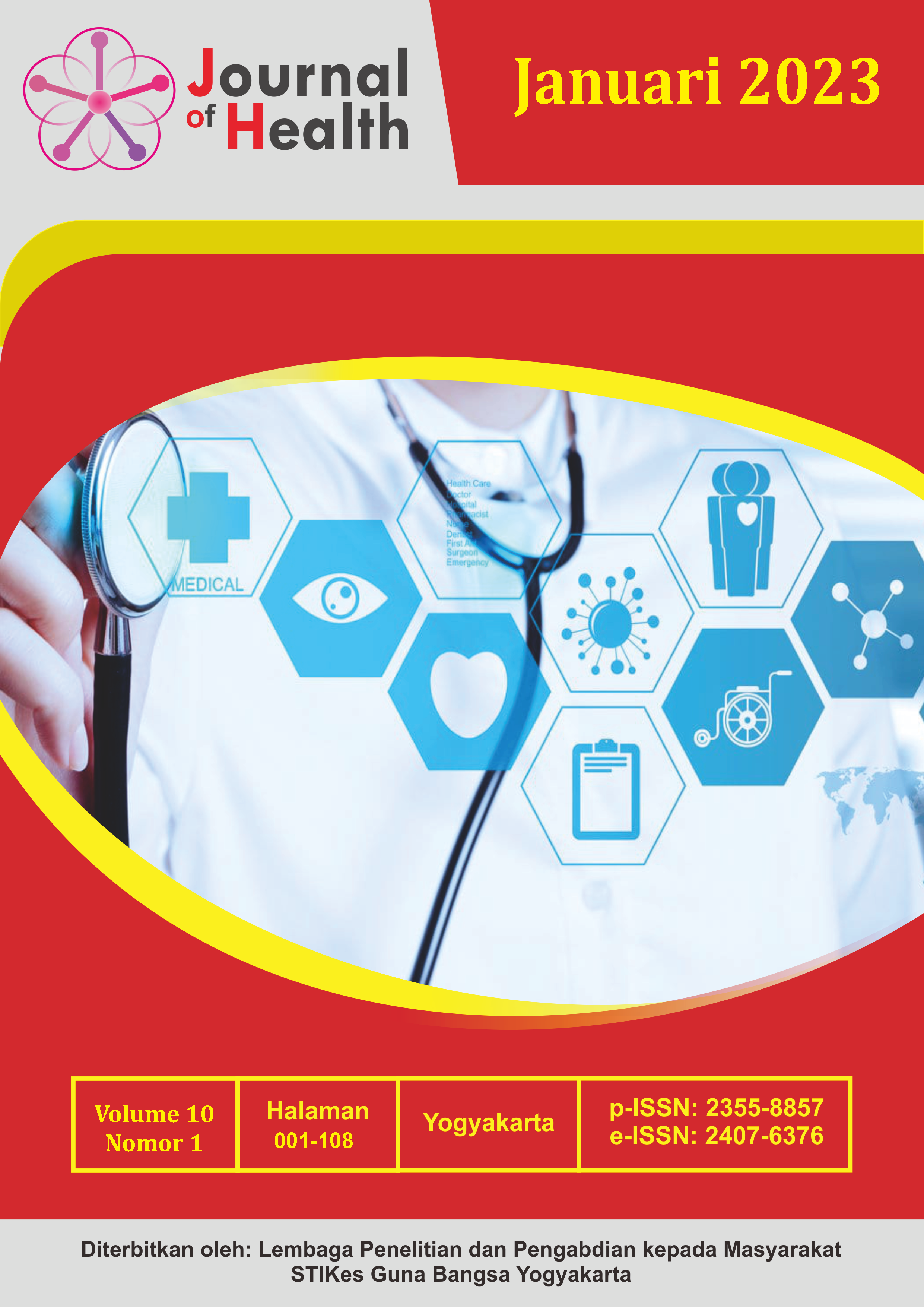 How to Cite
Arif Tirtana, & Habib, M. (2023). Wet Cupping Therapy for Reducing Uric Acid Levels. Journal of Health (JoH), 10(1), 038-046. https://doi.org/10.30590/joh.v10n1.518
Section
Literature Review
Copyright (c) 2023 Arif Tirtana, Muhammad Habib
This work is licensed under a Creative Commons Attribution 4.0 International License.
Authors who publish with this journal agree to the following terms:
Authors retain copyright and grant the journal right of first publication with the work simultaneously licensed under a Creative Commons Attribution License (CC-BY), that allows others to share the work with an acknowledgment of the work's authorship and initial publication in this journal.
Authors are able to enter into separate, additional contractual arrangements for the non-exclusive distribution of the journal's published version of the work (e.g., post it to an institutional repository or publish it in a book), with an acknowledgment of its initial publication in this journal.
Authors are permitted and encouraged to post their work online (e.g., in institutional repositories or on their website) prior to and during the submission process, as it can lead to productive exchanges, as well as earlier and greater citation of published work (See The Effect of Open Access).