Speech Delay on Toddlers and Parents Anxiety at RSUD Ulin Banjarmasin
Noor Mahmudianati

Universitas Sari Mulia Banjarmasin

Malisa Ariani

Universitas Sari Mulia Banjarmasin

Nita Hestiyana

Universitas Sari Mulia Banjarmasin
Keywords:
Anxiety, Growth, Parents, Speech delay
Abstract
Introduction: Develpoment of toddlers is a process where cells on their bodies start to increase. There are a few things that can be evaluated about developments of toddlers, such as, psychomotoric development, social development, speech and language development. If toddlers do not get enough stimulation, a condition called speech delay would occur, so that parents woud experience anxiety
Methods: This stude use descriptive statistical methods. The sample is 69 people with accidental sampling technique. Collecting data using a questionnaire that has beeen testes valid and reliable. Data analysis with tests of mean, median, mode, standard deviation and frequency distribution
Result: Toddlers parents diagnosed with speech delay didn't experience low anxiety, 13 people experienced moderate anxiety (18.84%), and parents toddlers had speech delay experienced high anxiety a 3 people (4.35%). Toddlers diagnosed with speech delay and other problems parents experienced low anxiety were 1 person (1.45%), parents children had speech delay with other problems experienced moderate anxiety a 45 people (65.22%) and parents children speech delay with other problems experienced high anxiety a 10 people (14.49%). Cognitive aspects of anxiety had highest score with complaints of difficulty sleeping with 6.16%
Conclusion: The anxiety of parents who have speech delay and speech delay toddlers with other problems is the majority of moderate anxiety. Nurses recommended the importance of assessing the anxiety of parents whose children have speech delay from the cognitive aspect
Downloads
Download data is not yet available.
References
Alam Putra, F., Indriyati, & Widayanti, I. (2021). Faktor-Faktor Penyebab Kecemasan Orang Tua Terhadap Hospitalisasi Bayi Di Kamar Bayi Resiko Tinggi. Jurnal Keperawatan Indonesia (JIKI), 14, 34–43. https://jurnal.usahidsolo.ac.id/index.php/JIKI/article/view/793
Atmadiyanti, A. L., Sriati, A., & Nurhidayah, I. (2018). Hubungan Tingkat Kecemasan Orang Tua dengan Pola Asuh Pada Anak Spektrum Autisme di SLB Kota Bandung. 9(1), 1–10. http://ejournal.umm.ac.id/index.php/keperawatan/issue/view
Bélanger, S. A., & Caron, J. (2018). Evaluation of the child with global developmental delay and intellectual disability. Paediatrics and Child Health (Canada), 23(6), 403–410. https://doi.org/10.1093/pch/pxy093
Farrag, S., MO, A., & Sayed, R. A. E.-A. el. (2020). Effect of Parents' Involvement Interventions in Speech Language Delay among Late Talking Toddlers in Egypt: A Quasi-Experimental Study. Research in Pediatrics & Neonatology, 4(4). https://doi.org/10.31031/rpn.2020.04.000592
Hanggraeni, T. B., & Anggraeni, A. D. (2022). Tingkat Kecemasan Orang Tua tentang Pembelajaran Daring pada Anak Berkebutuhan Khusus di Masa Pandemi Covid-19 Parent ' s Anxiety Level on Online Learning of Children with Special Needs during Covid-19 Pandemic. 9(1), 123–128. https://journal.lppm-stikesfa.ac.id/index.php/FHJ/article/download/372/120
Hasiana, I. (2020). Studi Kasus Anak dengan Gangguan Bahasa Reseptif dan Ekspresif. http://jurnal.unipasby.ac.id/index.php/special/article/view/2296/2072
Hayati, R., & Lubis, W. U. (2021). Tingkat Kecemasan Orangtua Anak Berkebutuhan Khusus di Era New Normal. Consuilium : Berkala Kajian Konseling Dan Ilmu Keagamaan, 8(2), 103–107. http://jurnal.uinsu.ac.id/index.php/consilium
Hayuningrum, C. F. (2022). Edukasi Tahapan Tumbuh Kembang Anak Sebagai Pencegahan Keterlambatan Perkembangan Anak Pada Masa Pandemi Covid-19. Jurnal Pengabdian Masyarakat, 3(2), 95–102. https://jurnal.unikal.ac.id/index.php/abdimas
Isnainia, & Na'imah. (2020). Faktor yang Mempengaruhi Perkembangan Anak Usia Dini. Jurnal Pelita PAUD, 4(2), 197–207. https://doi.org/10.33222/pelitapaud.v4i2.968
Jeniu, E., Widodo, D., & Widiani, E. (2017). Hubungan Pengetahuan Tentang Autisme Dengan Tingkat Kecemasan Orangtua Yang Memiliki Anak Autisme Di Sekolah Luar Biasa Bhakti Luhur Malang. Nursing News, 2(3), 21–33. https://publikasi.unitri.ac.id/index.php/fikes/article/view/450/368
Ladapase, E. (2021). Keterlambatan Bicara (Speech Delay) Pada Anak Usia 4 Tahun (Studi Kasus Di Lembaga Layanan Anak Berkebutuhan Khusus Karya Ilahi). Angewandte Chemie International Edition, 6(11), 951–952., 1(Agustus 2021-September 2021), 79–85. http://journal.ubpkarawang.ac.id/mahasiswa/index.php/Empowerment/article/view/149
Mardiah, L. Y., & Ismet, S. (2021). Implementasi Metode Bernyanyi dalam Mengembangkan Kemampuan Berbicara Anak Usia 4-6 Tahun. Jurnal Pendidikan Tambusai, 5, 402–408. https://www.jptam.org/index.php/jptam/article/view/962
Marlina, I., Zakso, A., & Supriadi, S. (2022). Penerimaan Orang Tua Pada Anak Berkebutuhan Khusus Di Desa Timpuk Kecamatan Sekadau Hilir Kabupaten Sekadau. Jurnal Pendidikan Dan Pembelajaran Khatulistiwa (JPPK), 11(1), 1–10. https://doi.org/10.26418/jppk.v11i1.51888
Mondal, N., Bhat, B. V., Plakkal, N., Thulasingam, M., Ajayan, P., & Poorna, D. R. (2016). Prevalence and risk factors of speech and language delay in children less than three years of age. Journal of Comprehensive Pediatrics, 7(2). https://doi.org/10.17795/compreped-33173
Mumtaz, N., Babur, M., & Saqulain, G. (2021). Speech language disorders unfolded in Islamabad's periphery: A tertiary health care facility experience. Journal of Medical and Allied Sciences, 11(1), 21–26. https://doi.org/10.5455/jmas.86249
Nasiha, M., Meliza, J., Dwiyani, A., Dewi, R. V., & Sari, S. (2022). Kondisi Dan Karakteristik Anak Autisme Di Desa Pematang Johar. December, 1–6. https://semnas.univbinainsan.ac.id/index.php/escaf/article/view/220/94
Nur, H. (2019). Proses perubahan harapan ibu dengan anak terlambat bicara. Seminar Nasional LP2M UNM, 1(1), 6–9. https://ojs.unm.ac.id/semnaslemlit/article/view/8140
Nurmalia, P. H., Putri, A. M., Artini, I., & Pramesti, W. (2021). hubungan karakteristik orang tua dengan stres pengasuhan orang tua yang memiliki anak retardasi mental di SLB se-Bandar Lampung tahun 2019-2020. Jurnal Psikologi Konseling, 18(1), 934–951. https://jurnal.unimed.ac.id/2012/index.php/Konseling/article/view/27836/16635
Padila, P., Ningrum, D. S., Andri, J., Sartika, A., & Andrianto, M. B. (2021). Kecemasan Orang Tua Ketika Anak Berinteraksi Sosial di Masa Pandemi Covid-19. Jurnal Keperawatan Silampari, 5(1), 168–177. https://doi.org/10.31539/jks.v5i1.2709
Pérez-Pereira, M. (2021). Prevalence of language delay among healthy preterm children, language outcomes and predictive factors. Children, 8(4), 1–20. https://doi.org/10.3390/children8040282
Prasetya, A., & Najamuddin, N. (2021). Penerapan Audio Murottal Al- Qur ' An Dalam Pembelajaranuntuk Meningkatkan Komunikasi Verbalpada Anak. 2, 72–77. https://ejurnal.biges.ac.id/index.php/kesehatan/article/view/188
Riyanto, Agus. (2017). Pengolahan Dan Analisis Data Kesehatan (A. Fiddarain, Ed.). Nuha Medika.
Rizkiani, A., Evia Darmawani, & Padilah. (2022). Keterampilan Berbicara Anak dengan Gangguan Bahasa Ekspresif. PAUD Lectura: Jurnal Pendidikan Anak Usia Dini, 5(02), 1–13. https://doi.org/10.31849/paud-lectura.v5i02.9149
Samantha, R., & Almalik, D. (2019). Model Dan Strategi Pembelajaran Anak ADHD (Attention Deficit Hyperactivity Disorder). Tjyybjb.Ac.Cn, 3(2), 58–66. http://www.tjyybjb.ac.cn/CN/article/downloadArticleFile.do?attachType=PDF&id=9987
Sembiring, F., Dewi, C., Saepudin, S., Mupaat, & Gustian, D. (2021). Sistem Informasi Monitoring Perkembangan Anak Balita Menggunakansistem Pakar. Jurnal Rekayasa Teknologi Nusa Putra, 7(2), 12–17. https://doi.org/https://doi.org/10.52005/rekayasa.v7i2.53
Taseman, Safaruddin, Erfansyah, N. F., Purwani, W. A., & Femenia, F. F. (2020). Strategi Penanganan Gangguan(Speech Delay)Terhadap Interaksi Sosial AnakUsia Dini di TK Negeri Pembina Surabaya. JECED : Journal of Early Childhood Education and Development, 2(1), 13–26. https://doi.org/10.15642/jeced.v2i1.519
Tsuraya, I., Deliana, M., & Hendriyani, R. (2013). Kecemasan Pada Orang Tua Yang Memiliki Anak Terlambat Bicara (Speech Delay) Di Rsud Dr. M. Ashari Pemalang. 2(2), 38–43. http://journal.unnes.ac.id/sju/index.php/dcp
Widyawaty, E. D., & Jannah, M. (2012). Faktor-Faktor Yang Mempengaruhi Kejadian Keterlambatan Bicara Di House Of Fatima Kota Malang. 35, 3–6. ttps://stikeswch-malang.e-journal.id/Health/article/view/164
Yuliastati, Y., Nurhayati, F., & Jaya, B. B. (2019). Harapan Orang Tua terhadap Peran Perawat pada Anak dengan Hospitalisasi (Studi Fenomenologi). Jurnal Kesehatan, 10(3), 396. https://doi.org/10.26630/jk.v10i3.1522
Yuniari, N. M., & Juliari, I. G. I. A. T. (2020). Strategi Terapis Wicara Yang Dapat Diterapkan Oleh Orang Tua Penderita Keterlambatan Berbicara (Speech Delay). Jurnal Ilmiah Pendidikan Dan Pembelajaran, 4(3), 564–570. https://ejournal.undiksha.ac.id/index.php/JIPP/article/view/29190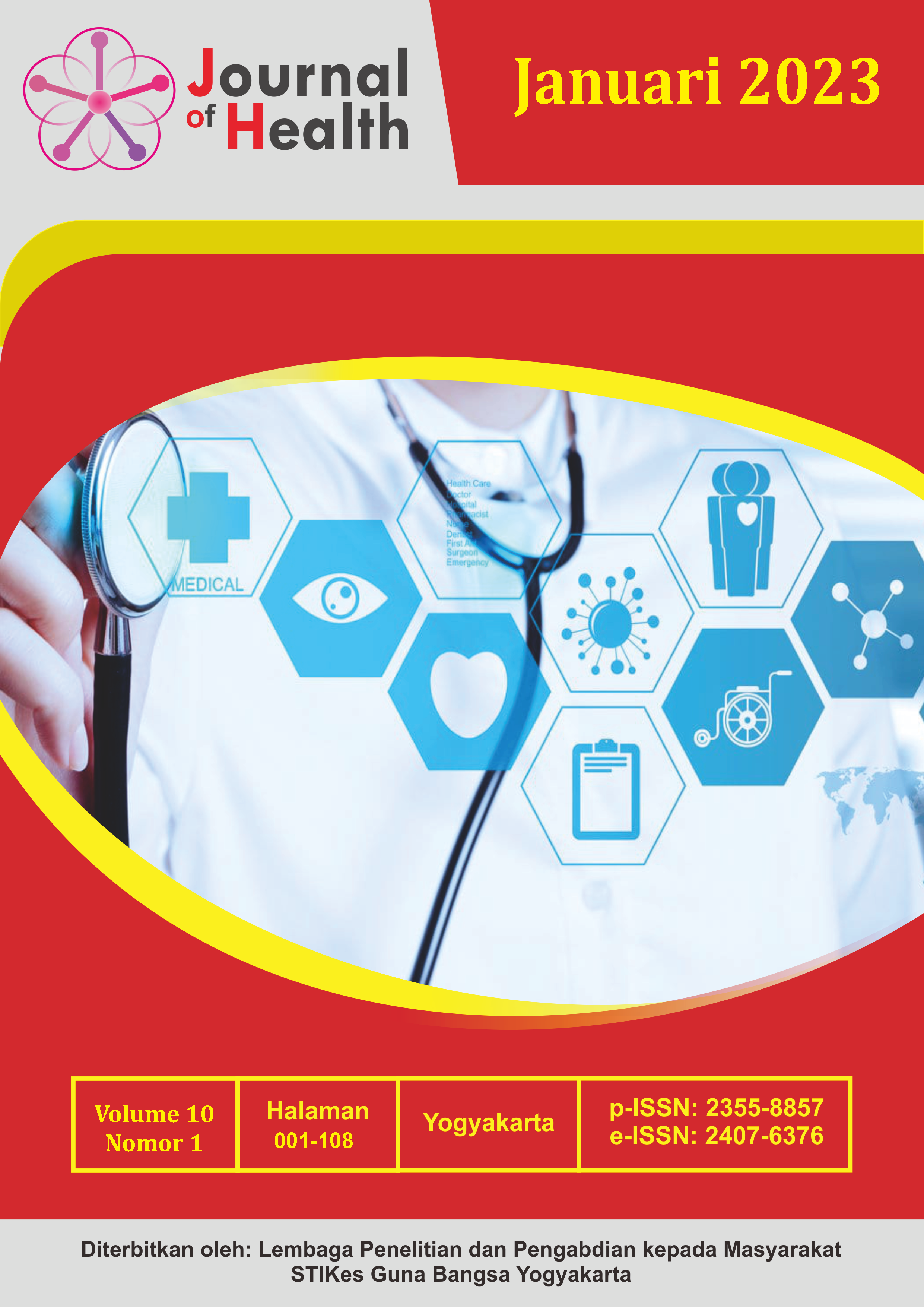 How to Cite
Mahmudianati, N., Ariani, M., & Hestiyana, N. (2023). Speech Delay on Toddlers and Parents Anxiety at RSUD Ulin Banjarmasin. Journal of Health (JoH), 10(1), 019-029. https://doi.org/10.30590/joh.v10n1.537
Section
Research Articles
Copyright (c) 2023 Noor Mahmudianati, Malisa Ariani, Nita Hestiyana
This work is licensed under a Creative Commons Attribution 4.0 International License.
Authors who publish with this journal agree to the following terms:
Authors retain copyright and grant the journal right of first publication with the work simultaneously licensed under a Creative Commons Attribution License (CC-BY), that allows others to share the work with an acknowledgment of the work's authorship and initial publication in this journal.
Authors are able to enter into separate, additional contractual arrangements for the non-exclusive distribution of the journal's published version of the work (e.g., post it to an institutional repository or publish it in a book), with an acknowledgment of its initial publication in this journal.
Authors are permitted and encouraged to post their work online (e.g., in institutional repositories or on their website) prior to and during the submission process, as it can lead to productive exchanges, as well as earlier and greater citation of published work (See The Effect of Open Access).