Identification of Malaria Parasites in Chasan Boesoirie General Hospital Ternate East Nusa Tenggara
Desto Arisandi

D3 Analis Kesehatan STIKes Guna Bangsa Yogyakarta

Sofvirah R. Sohy

D3 Analis Kesehatan STIKes Guna Bangsa Yogyakarta

Fitri Nadifah

D3 Analis Kesehatan STIKes Guna Bangsa Yogyakarta
Keywords:
Malaria, Plasmodium, Microscopic
Abstract
Background: Malaria is still a global health problem especially in tropical countries, such as Indonesia. Based on survey 35% of the Indonesia population were live in endemic areas of malaria, such as Provinces of Maluku, North Maluku, Papua, West Papua, North Sumatra, and East Nusa Tenggara. Malaria is caused by a mosquito bite of female Anopheles sp. containing Plasmodium parasite. Generally it bites humans at night or dawn. Such malaria parasites are Plasmodium falciparum, Plasmodium vivax, Plasmodium malariae, and Plasmodium ovale. Malaria is a disease of both highest in Ternate and mostly occur in general hospitals of Chasan Boesoirie General Hospital. This research aims to identify the type of malaria parasites in the Chasan Boesoirie General Hospital Ternate.
Method: This is a descriptive research conducted in Chasan Boesoirie General Hospital in Ternate, East Nusa Tenggara in March 2015. Research data obtained include: age, sex, education, and employment. Identification of malaria is carried out based on an examination of the existence of Plasmodium in preparation of thin and thick blood apus. Descriptive analysis using STATA programs for Windows version 12.0 (Stata Corp LP., College Station, TX, USA) are presented in the form of tables and narratives.
Result: This research subjects were 69 people suspected with malaria infection. Suspected malaria to be infected by Plasmodium is more are young age group 94%, 88% were males, 100% have a poor education or un-educated, as well as the of 100% were fishermen. As much as 54 people (78%) were infected by Plasmodium parasites consisting of Plasmodium falcifarum 48 people (89%) and Plasmodium vivax 6 people (11%).
Conclusion: The incidence of malaria infections in Chasan Boesoirie General Hospital amounted to 78% and the type of infected parasites were Plasmodium falcifarum and Plasmodium vivax.
Downloads
Download data is not yet available.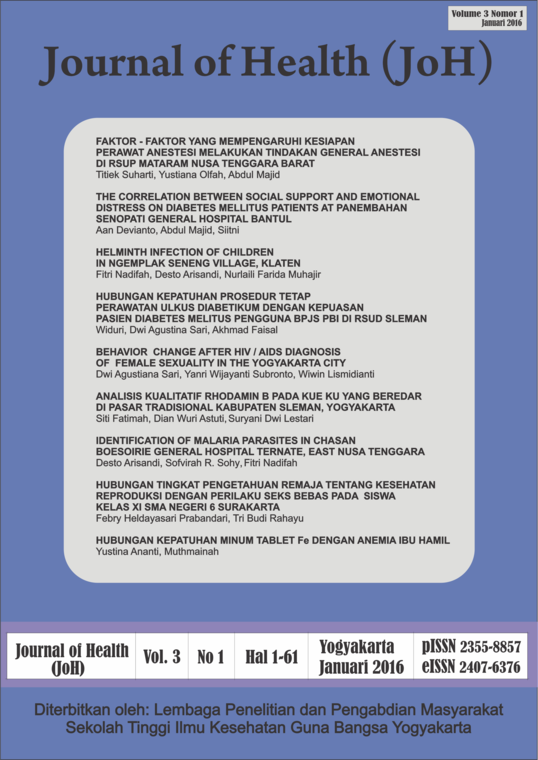 How to Cite
Arisandi, D., Sohy, S. R., & Nadifah, F. (2016). Identification of Malaria Parasites in Chasan Boesoirie General Hospital Ternate East Nusa Tenggara. Journal of Health (JoH), 3(1), 39-44. https://doi.org/10.30590/vol3-no1-p39-44
Section
Research Articles
Authors who publish with this journal agree to the following terms:
Authors retain copyright and grant the journal right of first publication with the work simultaneously licensed under a Creative Commons Attribution License (CC-BY), that allows others to share the work with an acknowledgment of the work's authorship and initial publication in this journal.
Authors are able to enter into separate, additional contractual arrangements for the non-exclusive distribution of the journal's published version of the work (e.g., post it to an institutional repository or publish it in a book), with an acknowledgment of its initial publication in this journal.
Authors are permitted and encouraged to post their work online (e.g., in institutional repositories or on their website) prior to and during the submission process, as it can lead to productive exchanges, as well as earlier and greater citation of published work (See The Effect of Open Access).