The Effect Of Online Based Education On Knowledge And Attitude Of Pregnant Woman About Maternal And Neonatal Services During The Covid-19 Pandemic In Sleman Regency
Chentia Misse Issabella

STIKES Guna Bangsa Yogyakarta

Febry Heldayasari Prabandari

STIKES Guna Bangsa Yogyakarta
Keywords:
Education, Maternal, Neonatal
Abstract
Pregnancy is a very happy moment. In order for a pregnancy to run well, maternal and neonatal services in health facilities are needed to ensure the safety of the mother and fetus. However, the COVID-19 outbreak has caused increased anxiety and discomfort for pregnant women in Sleman Regency. Based on a survey conducted in the month of July 2020 in Sleman Regency, there were 46 pregnant women and it was found 38 pregnant women (82,6%) experienced excessive worry due to lack of information on maternal and neonatal services during the pandemic. The purpose of this study was to determine the effect of online education on increasing knowledge and attitudes towards maternal and neonatal services during the pandemic in Sleman Regency in 2020. This study used a pre-experimental method with a sample of 60 pregnant women who were divided into 2 groups using randomization techniques. simple (simple randomization) and the Mann-Whitney test. The results of the study showed an increase in knowledge and attitudes through online education of 39,17 (post 1) dan 43,52 (post 2) level, while the group without education was 21,83 (post 1) dan 17,46 (post 2) level. From the results of the study shows the difference between groups that are given online education and lefleat on increasing knowledge and attitudes on maternal and neonatal services was 41,25 (post 1) dan 39,68 (post 2) in Sleman Regency in 2020. It is hoped that pregnant women can respond and take the best steps in maintaining health with online knowledge has been obtained.
Downloads
Download data is not yet available.
References
Akseer, N., Kandru, G., Keats, E. C., & Bhutta, Z. A. (2020). COVID-19 pandemic and mitigation strategies: implications for maternal and child health and nutrition. American Society for Nutrition 2020, 112.

Aritonang, Juneris. dkk. (2020). Peningkatan Pemahaman Kesehatan pada Ibu hamil dalam Upaya Pencegahan COVID-19. Jurnal Solma, 9. https://doi.org/10.22236/solma.v9i2.5522

Ausrianti, R., Andayanti, R, P., Surya, D, O., Suryani, U. Edukasi Pencegahan Penularan COVID 19 serta Dukungan Kesehatan Jiwa dan Psikososial pada Pengmudi Ojek Online. Jurnal Peduli Masyarakat.2(2). 2020. 59-64 https://doi.org/10.37287/jpm.v2i2.101

Elfaki, N., Abdulraheem, I., and Abdulrahim, R. (2019). Impact of E-learning VS traditional learning on students'performance and attitude. International Journal of Medical Research & Health Sciences, 8(10), 76-82.https://www.ijmrhs.com/medical-research/impact-of-elearning-vs-traditional-learning-on-students-performanceand-attitude.pdf

Espinosa-Curiel, I. E., Pozas, E. E., Lozano, J. L., & Delgado, E. E. (2020). Nutritional Education and Promotion of Healthy Eating Behaviors Among Mexican Children Through Video Games: Design and Pilot Test of FoodRateMaster. JMIR Serious Games, 8. Retrieved from http://games.jmir.org/2020/2/e16431/

Fantini, E., & Tamba, R. S. (2020). Mediamorfosis Edukasi Informal Online Melalui Platform Digital Sebagai Peluang Bisnis Baru. Majalah Ilmiah Bijak, 17(1), 114–127.

Harrisa, R., Gibbsb, D., Mangin-Heimosc, K., & Pineda, R. (2018). Maternal mental health during the neonatal period: Relationships to the occupation of parenting. Early Human Development, 120. Retrieved from https://www.elsevier.com/locate/earlhumdev

Hermans, R. C. J., Broek, N. van den, Nederkoorn, C., & Otten, R. (2018). Feed the Alien! The Effects of a Nutrition Instruction Game on Children's Nutritional Knowledge and Food Intake. GAMES FOR HEALTH JOURNAL: Research, Development, and Clinical Applications, 7.

Izza, S., Ningrum, B., & Hariyati, R. T. Pemanfaatan Webinar dalam Bidang Keperawatan. Jurnal Penelitian Perawat Profesional. 2019. 1:1. 13-20. https://doi.org/10.37287/jppp.v1i1.14.

Kimani, R. W., Maina, R., Shumba, C., & Shaibu, S. (2020). Maternal and newborn care during the COVID-19 pandemic in Kenya: recontextualising the community midwifery model. Human Resources for Health, 18.

Li, dkk. (2020). Public Health Education For Parents During The Outbreak Of COVID-19: A Rapid Review. Annals Of Translational Medicine, 8.

Mulyani, Erry Yudhya, dkk. (2020). Peningkatan Pengetahuan Mahasiswa Melalui Edukasi Online Gizi dan Imunitas Saat Pandemic Covid-19. Semangat Nasional dalam Mengabdi, 1(1).

Mulyani, Erry Yudhya, dkk. (2020). Peningkatan Pengetahuan Masyarakat Kampus Melalui Edukasi Online Tentang Mekanisme Covid-19. Jurnal Abdimas, 5(4).

Notoatmodjo, S. (2018). Metodologi Penelitian Kesehatan. Cetakan Ketiga. Jakarta: PT Rineka Cipta.

Pei, L., & Wu, H. (2019). Does online learning work better than offline learning in undergraduate medical education? A systematic review and meta-analysis. Medical Education Online, 24. https://doi.org/https://www.tandfonline.com/action/showCitFormats?doi=10.1080/10872981.2019.1666538

Sabarudin, dkk. (2020). Efektivitas Pemberian Edukasi secara Online melalui Media Video dan Leaflet terhadap Tingkat Pengetahuan Pencegahan Covid-19 di Kota Baubau. Jurnal Farmasi Galenika :Galenika Journal of Pharmacy (e-Journal), 6(2), 309-318. Doi:1022487/j24428744.2020.v6.i215253

Safitri, N. R. D., & Fitranti, D. Y. (2016). Pengaruh Edukasi Gizi Dengan Ceramah dan Booklet Terhadap Peningkatan Pengetahuan dan Sikap Gizi Remaja Overweight. Journal of Nutrition College, 5. Retrieved from http://ejournal-s1.undip.ac.id/index.php/jnc

Smith, V., Seo, D., Warty, R., Payn, O. S., Chin, M. K. L., & Ofori, R. (2020). Maternal and neonatal outcomes associated with COVID-19 infection: A systematic review. PLoS ONE, 15. Retrieved from https://doi.org/10.1371/journal.pone.0234187

Yulian, Diki Retno., & Riza Amalia. (2020). Meningkatkan Pengetahuan dan Perilaku Pencegahan COVID-19 Maternal Neonatal melalui Pendidikan Kesehatan secara Online : Studi pada Ibu Hamil. Jurnal Riset Kebidanan Indonesia, 4. https://doi.org/10.32536/jrki.v4i2.134

WHO. (2020). The Sustainability of Essential Sexual, Reproductive, Maternal, Naonatal, Child, and Adolescent Essential Health Service Amid the Covid-19 Pandemic. Word Health Organization. Retrieved from https://www.who.int/maternal_child_adolescent/links/covid19-resources-and-support-for-mncah-and-ageing/en/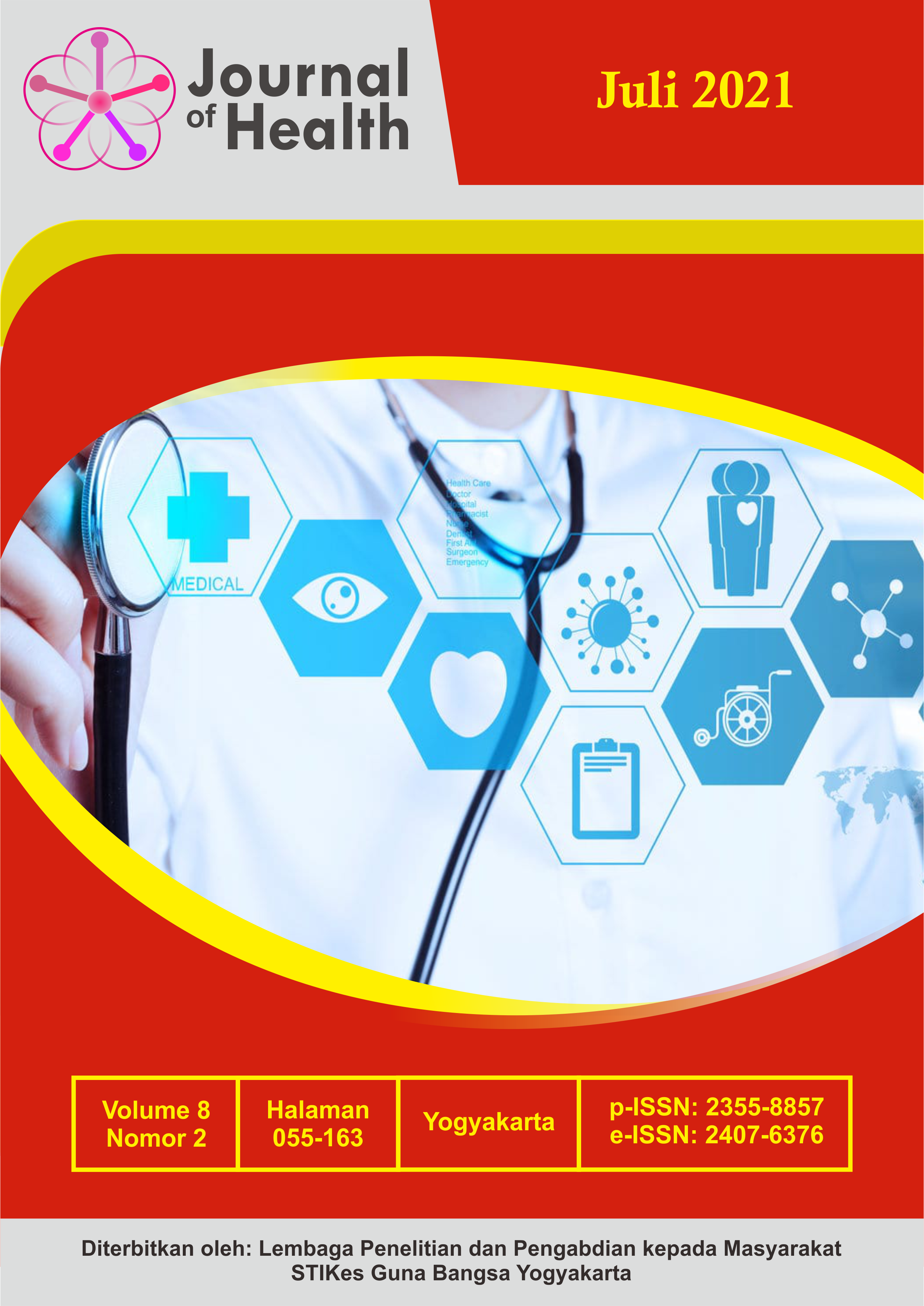 How to Cite
Issabella, C. M., & Febry Heldayasari Prabandari. (2021). The Effect Of Online Based Education On Knowledge And Attitude Of Pregnant Woman About Maternal And Neonatal Services During The Covid-19 Pandemic In Sleman Regency. Journal of Health (JoH), 8(2), 151-163. https://doi.org/10.30590/joh.v8n2.p151-163.2021
Section
Research Articles
Copyright (c) 2021 Chentia Misse Issabella, Febry Heldayasari Prabandari
This work is licensed under a Creative Commons Attribution 4.0 International License.
Authors who publish with this journal agree to the following terms:
Authors retain copyright and grant the journal right of first publication with the work simultaneously licensed under a Creative Commons Attribution License (CC-BY), that allows others to share the work with an acknowledgment of the work's authorship and initial publication in this journal.
Authors are able to enter into separate, additional contractual arrangements for the non-exclusive distribution of the journal's published version of the work (e.g., post it to an institutional repository or publish it in a book), with an acknowledgment of its initial publication in this journal.
Authors are permitted and encouraged to post their work online (e.g., in institutional repositories or on their website) prior to and during the submission process, as it can lead to productive exchanges, as well as earlier and greater citation of published work (See The Effect of Open Access).