Online Education in Reducing Dysmenorrhea Pain During the Covid-19 Pandemic
Chentia Misse Issabella

STIKES Guna Bangsa Yogyakarta

Febry Heldayasari Prabandari

STIKES Guna Bangsa Yogyakarta

Yustina Ananti

STIKES Guna Bangsa Yogyakarta

Desto Arisandi

STIKES Guna Bangsa Yogyakarta
Keywords:
Dysmenorrhea, Education, Online
Abstract
During menstruation, young women sometimes experience menstrual pain which is called dysmenorrhea. Dysmenorrhea can be fatal if not handled properly because it can interfere with daily activities. With the Covid-19 outbreak, the prevalence of dysmenorrhea in female adolescents in Sleman Regency has increased, causing discomfort and anxiety. Based on the results of a survey that was conducted in June-August 2020 in Sleman Regency, as many as 254 young women had experienced menstruation and it was found 186 young women (73,22%) experienced dysmenorrhea. This study aims to determine the effect of online education on reducing dysmenorrhea pain in female adolescents in Sleman Regency in 2020. This study used a Quasy experimental method. The sample used 142 young women and was divided into 2 groups with a simple random sampling technique. Statistical test using the Mann-Whitney test. The results of this study showed a decrease in dysmenorrhea pain in young women who had been given online education by four-level, while those without education decreased by one level. The results of the study show the difference between providing online education with those without education on the reduction of dysmenorrhea pain on the first-month p-value 0,000 < α= 0,05 and on the second month p-value 0,000 < α= 0,05 in Sleman Regency in 2020. It is hoped that young women can provide treatment for dysmenorrhea pain reduction with online knowledge has been obtained.
Downloads
Download data is not yet available.
References
Amelia, A., Hasanah, U., Putra, A. M., & Hidayatur, R. (2020). Analisis Keefektifan Pembelajaran Online di Masa Pandemi Covid-19. Pendidikan Guru Sekolah Dasar, 1.
Azizah, A. Y., Erawati, S., & Nababan, I. (2021). Edukasi Online Terhadap Perubahan Perilaku Menjaga Kebersihan Gigi Pada Mulut Selama Masa Pandemi. Jurnal Ilmiah Pannmed, 16(1).
Fernandez-Martınez, E., Onieva-Zafra, Dolores, M., Parra-Ferna´ndez, & Laura, M. (2018). Lifestyle and prevalence of dysmenorrhea among Spanish female university students. PLOS ONE, 13.
Gülmezoglu, M., & Khan, K. S. (2006). WHO systematic review of prevalence of chronic pelvic pain: A neglected reproductive health morbidity. BMC Public Health, 6.
Hu, Z., Tang, L., Chen, L., Kaminga, A. C., & Xu, H. (2019). Prevalence and risk factors associated with primary dysmenorrhea among Chinese female university students: A cross-sectional study. Journal of Pediatric and Adolescent Gynecology. https://doi.org/https://doi.org/10.1016/ j.jpag.2019.09.004.
Kimata, D. A. N. (2018). Gambaran Tingkat Stress Psikologis dan Tingkat Dysmenorrhea Primer Pada Mahasiswi Fisioterapi S1 Di Universitas Muhammadiyah Surakarta. Surakarta: Program Studi Fisioterapi Fakultas Ilmu Kesehatan Universitas Muhammadiyah Surakarta.
Maharlouei, N., Asadi, N., Bazrafshan, K., & Roozmeh, S. (2020). Knowledge and Attitude regarding COVID-19 among Pregnant Women in Southwestern Iran in the Early Period of Its Outbreak: A Cross-Sectional Study. The American Journal of Tropical Medicine and Hygiene, 1.
Pakpour, A. H., Kazemi, F., Griffiths, Z., Alimoradi, & D., M. (2020). Depression, anxiety, stress, and dysmenorrhea: a protocol for a systematic review. Systematic Reviews, 9. https://doi.org/10.1186/s13643-020-01319-4
Pei, L., & Wu, H. (2019). Does online learning work better than offline learning in undergraduate medical education? A systematic review and meta-analysis. Medical Education Online, 24. https://doi.org/https://www.tandfonline.com/action/showCitFormats?doi=10.1080/10872981.2019.1666538
Rakhma, A. (2006). Gambaran Derajat Dismenore dan Upaya Penanganannya pada Siswi Sekolah Menengah Kejuruan Arjuna Depok Jawa Barat. Fakultas Kedokteran dan Ilmu Kesehatan Universitas Islam Negeri Syarif Hidayatullah Jakarta.
Sabarudin, Mahmudah, R., Ruslin, Aba, Nggawu, L., Ode, L., … Hasyim. (2020). Efektivitas Pemberian Edukasi secara Online melalui Media Video dan Leaflet terhadap Tingkat Pengetahuan Pencegahan Covid-19 di Kota Baubau. Jurnal Farmasi Galenika, 6. https://doi.org/10.22487/j24428744.2020.v6.i2.15253
Safitri, N. R. D., & Fitranti, D. Y. (2016). Pengaruh Edukasi Gizi Dengan Ceramah dan Booklet Terhadap Peningkatan Pengetahuan dan Sikap Gizi Remaja Overweight. Journal of Nutrition College, 5. Retrieved from http://ejournal-s1.undip.ac.id/index.php/jnc
Shah, D. (2016). Online education: should we take it seriously? CLIMACTERIC, 19. Retrieved from http://dx.doi.org/10.3109/13697137.2015.1115314
Sun, A., & Chen, X. (2016). Online Education and Its Effective Practice: A Research Review. Journal of Information Technology Education: Research, 15. Retrieved from http://www.informingscience.org/Publications/3502
Zaigham, M., & Andersson, O. (2020). Maternal and Perinatal Outcomes with COVID-19: a systematic review of 108 pregnancies. Systematic Review, 1.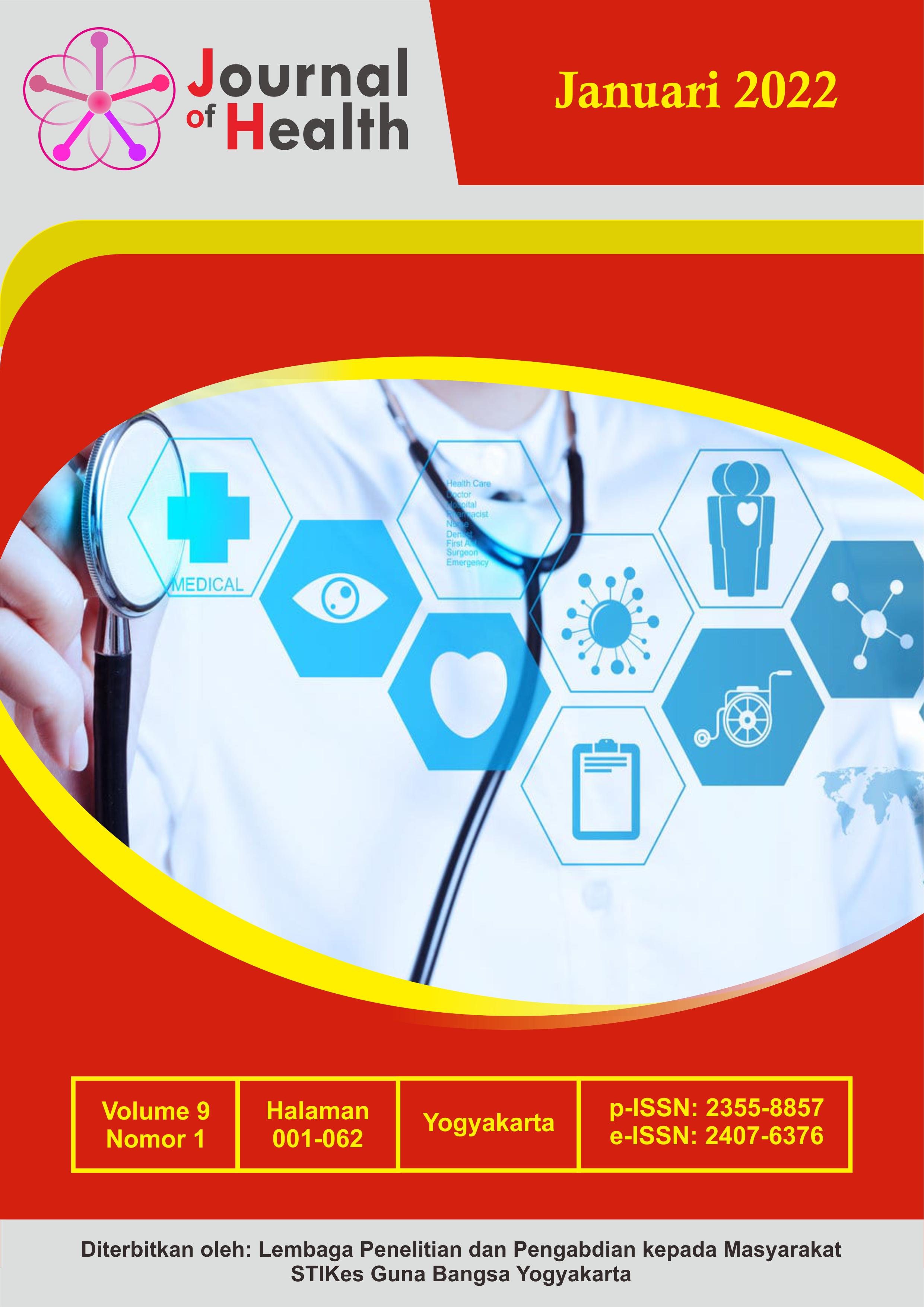 How to Cite
Issabella, C. M., Prabandari, F. H., Ananti, Y., & Arisandi, D. (2022). Online Education in Reducing Dysmenorrhea Pain During the Covid-19 Pandemic. Journal of Health (JoH), 9(1), 53-62. https://doi.org/10.30590/joh.v9n1.423
Section
Research Articles
Copyright (c) 2022 Chentia Misse Issabella, Febry Heldayasari Prabandari, Yustina Ananti, Desto Arisandi
This work is licensed under a Creative Commons Attribution 4.0 International License.
Authors who publish with this journal agree to the following terms:
Authors retain copyright and grant the journal right of first publication with the work simultaneously licensed under a Creative Commons Attribution License (CC-BY), that allows others to share the work with an acknowledgment of the work's authorship and initial publication in this journal.
Authors are able to enter into separate, additional contractual arrangements for the non-exclusive distribution of the journal's published version of the work (e.g., post it to an institutional repository or publish it in a book), with an acknowledgment of its initial publication in this journal.
Authors are permitted and encouraged to post their work online (e.g., in institutional repositories or on their website) prior to and during the submission process, as it can lead to productive exchanges, as well as earlier and greater citation of published work (See The Effect of Open Access).